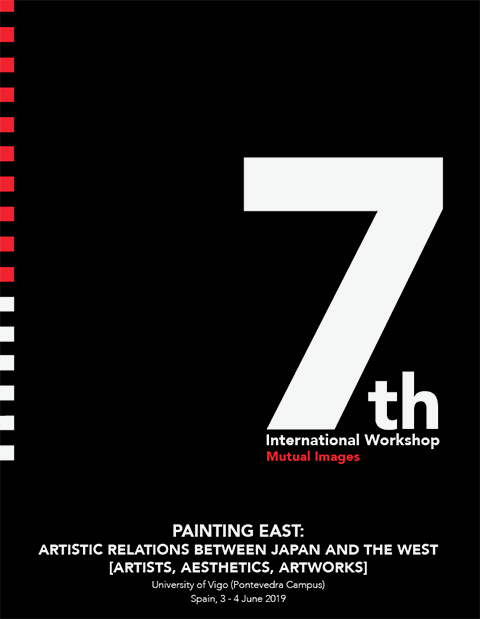 Este año organizamos en colaboración con Mutual Images Research Association la 7ª edición del workshop internacional titulado «Painting East: Artistic Relations Between Japan and the World [Artists, Aesthetics, Artworks]». El encuentro, que cuenta con el apoyo del Vicerrectorado del Campus de Pontevedra, se celebrará en la Casa das Campás de Pontevedra (Universidade de Vigo) los días 3 y 4 de junio de 2019. El plazo para presentar comunicaciones ya está abierto y finaliza el 30 de marzo ¡Os animamos a participar!
Todo la información está disponible en la web de Mutual Images: https://www.mutualimages.org/events
Call for Papers
Mutual Images 7th International Workshop: Painting East: Artistic relations between Japan and the West (artists, aesthetics, artworks)
Vigo University (Pontevedra Campus) Spain, 3 – 4 June 2019
Nowadays, intense influences between cultures are commonly associated with new technologies and globalisation. However, when it comes to art, the new millennium is but the last step in a long process of hundreds of years of artistic interaction and cultural exchange between artists from countries all over the world. The relationship between Japan and Europe, strengthened after the Meiji Restoration, richly exemplifies how artists and their production benefit from outside influences, which ultimately permeates between different artistic and cultural manifestations such as cinema, photography, fashion, graphic design, comics or contemporary art. This workshop aims to gather researchers and practitioners who wish to discuss the mutual influence between Japan and Europe on artists, their works and styles. The discussions are open to all periods and artistic media (including fine arts, cinema, photography, graphic design, manga, anime, fashion, etc.). We invite papers that consider individual artists, collectives, artistic movements or specific artworks.
 We encourage submissions considering the following themes, but not exclusively:
Cultural movements and flux:
• Japanese artists who traveled to Europe/ European artists who traveled to Japan.
• Exhibitions about Japan or Japanese art in Europe/ exhibitions about Europe or European art in Japan.
• Reception of manga and anime in Europe.
• European cinema in Japan; Japanese cinema in Europe.
• Photography in modern Japan as an imported technique/ Japan as the post-war leader in the photographic industry.
 Representation of the self and other in art:
• Artworks representing Japan and/or Europe.
• Self and other in Japanese and European cinema.
• Orientalism.
• Japonism.
 Cultural influences:
• Japanese artists influenced by European cultures/ European artists influenced by Japanese culture.
• Japanese motives/ European motives in fine arts, cinema, photography, graphic design and fashion.
• Manga and anime in contemporary art / European take on manga and anime.
• Cross-relations and influences between different artistic media.
• European/Japanese fashion.
• Graphic design in Europe and Japan.
 The dx5 digital & graphic art_research group at Vigo University, in co-operation with Mutual Images Association, invite potential speakers to this workshop. Interested presenters are invited to submit a 300-word abstract on topics related to images of Japan through a foreign lens and vice-versa. PhD students and early career researchers are particularly encouraged to submit papers. Panel submissions are welcome, but also all the individual papers will be grouped with others of a similar theme, where possible. All papers presented may be subsequently published in the peer-reviewed journal Mutual Images: mutualimages-journal.org.
Please send your abstract, along with your details (name, position and institution/affiliation), to: mutualimages@gmail.com
The deadline for abstracts is 30th March 2019. Presentations will be scheduled for 20 minutes, followed by 20 minutes of discussion and exchange.
Information about attending as a delegate will be sent out shortly after the deadline. A provisional schedule and details of the keynote will be provided at that time.
WRITING RECOMMENDATIONS
Abstracts should be in Word format with the following information and in this order:
1 title of abstract.
2 body of abstract
3 up to 10 key words
4 author(s)
5 affiliation(s)
6 corresponding author's email address.
Please use plain text (Times New Roman 12) and abstain from using footnotes, special formatting or characters, and emphasis such as bold, italics, and underlining.
Your email subject line must read: MUTUAL IMAGES 2019 Abstract Submission.
All abstracts will be reviewed by a jury of specialists.
We acknowledge receipt and answer to all paper proposals submitted. If you do not receive a reply from us in a week, please resubmit.
 Joint Organising Chairs:
From University of Vigo:
• José Andrés Santiago Iglesias, University of Vigo, Spain: grupodx5@uvigo.es
• Ana Soler Baena, University of Vigo, Spain: grupodx5@uvigo.es
• Tatiana Lameiro, University of Vigo, Spain: grupodx5@uvigo.es
 From Mutual Images Research Association:
• Aurore Yamagata-Montoya, Independent researcher, Lithuania: auroremontoya@gmail.com
• Maxime Danesin, Université François Rabelais de Tours, France: maxime.danesin@etu.univ-tours.fr
• Marco Pellitteri, Shanghai International Studies University, China: marco.pellitteri@gmail.com
 For additional details about the workshop, please visit: http://mutualimages.org
For any further information, contact us at: mutualimages@gmail.com