_René Heyvaert. Mail Art 1964—1984
_ subject
Contemporary art
René Heyvaert
Mail Art 1964—1984
This book presents a study and a significant selection of mail art by the Belgian artist René Heyvaert (1929-1984). His mail art activity is deeply linked to both an artistic context that asserts an art anchored in everyday experience and social reality, and its vital circumstances that feed his epistolaric vocation as well as his entire artistic creation.
_ the origin
This book revisits some of the results of Anne Heyvaert's PhD thesis (daughter of the artist): "René Heyvaert's Mail art: A minimal and daily conception of art", defended at the Faculty of Fine Arts, University of Vigo, in 2010. This research, supervised by Professor Elena Lapeña, is integrated in the lines of the dx5 group and relates to a reflection around modernity and its margins, production of works at the border, art dissemination spaces and models… This research has allowed us to start a chronological inventory, highlighting different coherent series that are always linked to his artistic experiences of the time. The inventory was carried out with the collaboration of Lightmachine Agency, Ghent, and has since been completed, among others, by the findings of Lodovico Corsini from THE CLEARING gallery, Brussels. The book, co-edited by the Belgian publishing house Triangle Books Edition (of international fame in contemporary art books), coincided with the monographic exhibitions of René Heyvaert at the Clearing Gallery, Brussels, 11/11/2018-16/02/2019, and at the CGAC, Santiago de Compostela, 08/03-16/06/2019. Both exhibitions highlight the importance of these postal works within the artist's general artistic corpus.
The book features 108 cards and postal objects, almost half of the 260 registered so far, and sent between 1964 and 1984 to some 40 different recipients (friends, family and artists). The works are reproduced on a 1/1 scale on both sides (front and back pages) and sorted by dates.
"…I hope you receive the kitchen knife sent to you yesterday. And hopefully the Spanish customs will not confiscate it (…). Let me know ASAP whether you have received it or not, I am very curious. Besides, it is the most beautiful object that I have ever sent to you".
René Heyvaert: Letter to Anne, February 1982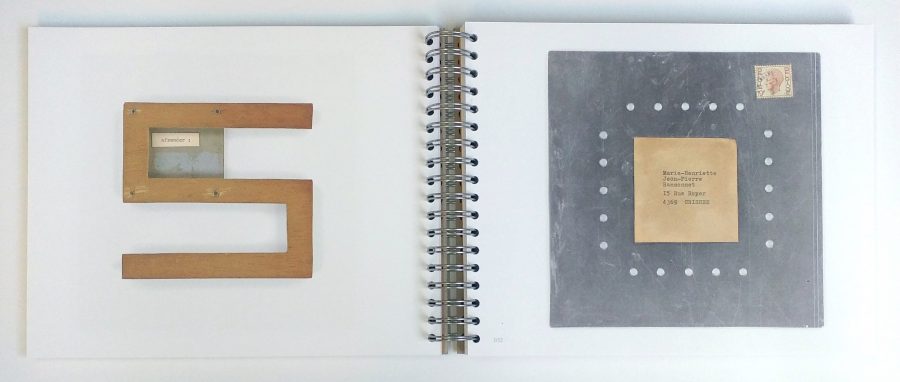 Most of his mail production sent without an envelope and usually without text, respects mail sizes, formats, and integrates the system elements (data, postage stamps, seals) in its aesthetics. However, sometimes he has fun by provoking the system with extreme materials and cuts, using everyday, personal items, or by sending some larger objects, such as those that can be seen on the poster attached to the book. The publication includes a text, motivated by the author's personal and emotional bond, and based on the conceptual, formal and perceptive exploration of the artist's particular postal work. An analysis is performed not only of how his cards and objects are the result of artistic experiences typical of his time, but also of his initial training as an architect; all his works always maintain a material and spatial relationship with his living environment. Also observed, is how his isolation, because of a very delicate health, has motivated more and frequent mailing of these small works. René Heyvaert seduces and conquers his recipients with his original works by sight and hand, while questioning and challenging the nature of art and its place in society.
René Heyvaert intends to involve his recipients in his existence and in his art, a "true art", as he defined it, is an art anchored in daily life.