_anime studies
media-specific approaches to neon genesis evangelion
_ subject
Art and anime Anime Studies
_ specialty
Japanese culture
_anime Studies:
Media-Specific Approaches to Neon Genesis Evangelion
This book is the second volume in the Stockholm Studies in Media Arts Japan collection, coordinated by Jaqueline Brendt and published by Stockholm University Press. The book, coordinated by José Andrés Santiago Iglesias and Ana Soler Baena, analyses anime as a medium with distinctive aesthetic properties, linked to animated productions for television and made in CEL animation. To do this, it study in depth the well-known television anime and cult series Neon Genesis Evangelion (Shin Seiki Evangerion, 1995).
_origin
On October 4, 1995, the anime series Neon Genesis Evangelion aired for the first time on the TV Tokyo network. From that moment on, it became a benchmark for Japanese anime, whose influence continues to this day. The series employs the conventions, visual devices and narratives from anime in general and the mecha genre (or giant robot) in particular. At the same time, it subverts and reinterprets them in a really innovative way. As this volume investigates anime through Neon Genesis Evangelion, it adopts a broad media-aesthetic and media-cultural perspective referring to the medium in the strict sense of technology, techniques, materials, and semiotics, but also to mediations related to the practices and institutions of production, circulation, and consumption.
_approach
This publication offers an introduction to anime studies, a field that necessarily interrelates media and transmedia aspects, approaching anime from a transnational and transdisciplinary stance. All in all, this volume confirms the emergence of anime studies as a field in its own, including, but not prioritizing, insights from film studies and Japanese studies. Furthermore, it takes into account the most widely circulated critical publications in both Japanese and English. The disciplinary and methodological perspectives that are adopted in each of the chapters range from audiovisual culture, narratology, interpretation, and gender theory to fandom studies and gender studies.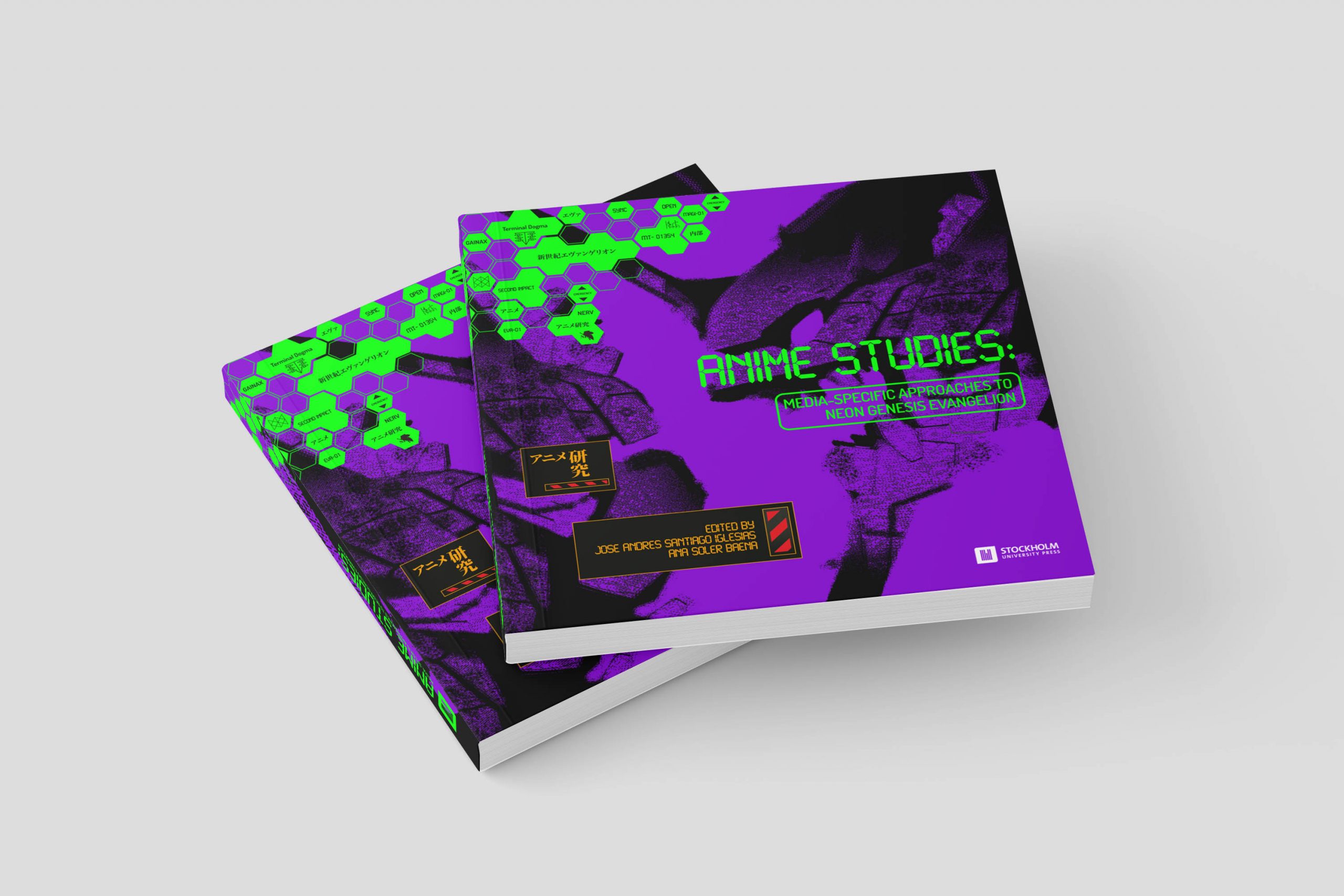 _about
Firstly, the book focuses on textual analysis and media form in the strict sense, as it relates to film media, sequences, voice acting, and musical score. Then, it widens the scope to consider subcultural discourse, franchises, adaptations of manga, and video games, as well as the critical and affective commitment of the user.
Participating in the book, with different chapters, are José Andrés Santiago Stevie Suan, Ida Kirkegaard, Minori Ishida, Heike Hoffer, Manuel Hernández-Pérez, Olga Kopylova, Selen Çalık, Zoltan Kacsuk, Jessica Bauwens and Tatiana Lameiro González.
The publication is available for free download in open-access  by digital version, as well as in physical format by Stockholm University Press